Adventures in Design
Travel Series
Travel journalist Sophie Pither writes about the world's best hotels and destinations for Conde Nast Traveller, The Times, and other UK publications. In our new Adventures in Design Travel Series of journal posts, she focuses on appealingly elegant hospitality designs in a particular location and thinks about why they work…
The London Look
Having lived in Notting Hill's elegant Regency streets in the 90s, I now visit London as a travel writer. Travelling from my home in rural Scotland, a trip south always brings a frisson of adventure – combining food, friends, culture, and usually somewhere fabulous to stay.
My instinct about whether a hotel is great or not has a lot to do with design. With that in mind, London packs a punch. From the Art Deco grandeur of The Savoy, whose polished black and white chequerboard floor is always the entrance to a fun evening, to Claridge's, with a similar shining floor but a grander opulence overall, greeting you with a Medusa-like Art Deco chandelier and sturdy marble pillars. Both hotels feel at the heart of things – relevant and still places to see and be seen.
Then there's the overblown Regency allure of The Goring – which is so accommodating of whims it even housed a Shetland Pony for a fortnight back in 2021. These good-looking hotels offer a side of London glamour I love: impressive design, swanky, shiny, dressed for a night out, and always with cocktails. They work because they promise unadulterated luxury, but also, like all the best things, they concentrate on the details: service, easy-going charm, and unlimited glam with the beautiful buildings they are set in immaculately furnished.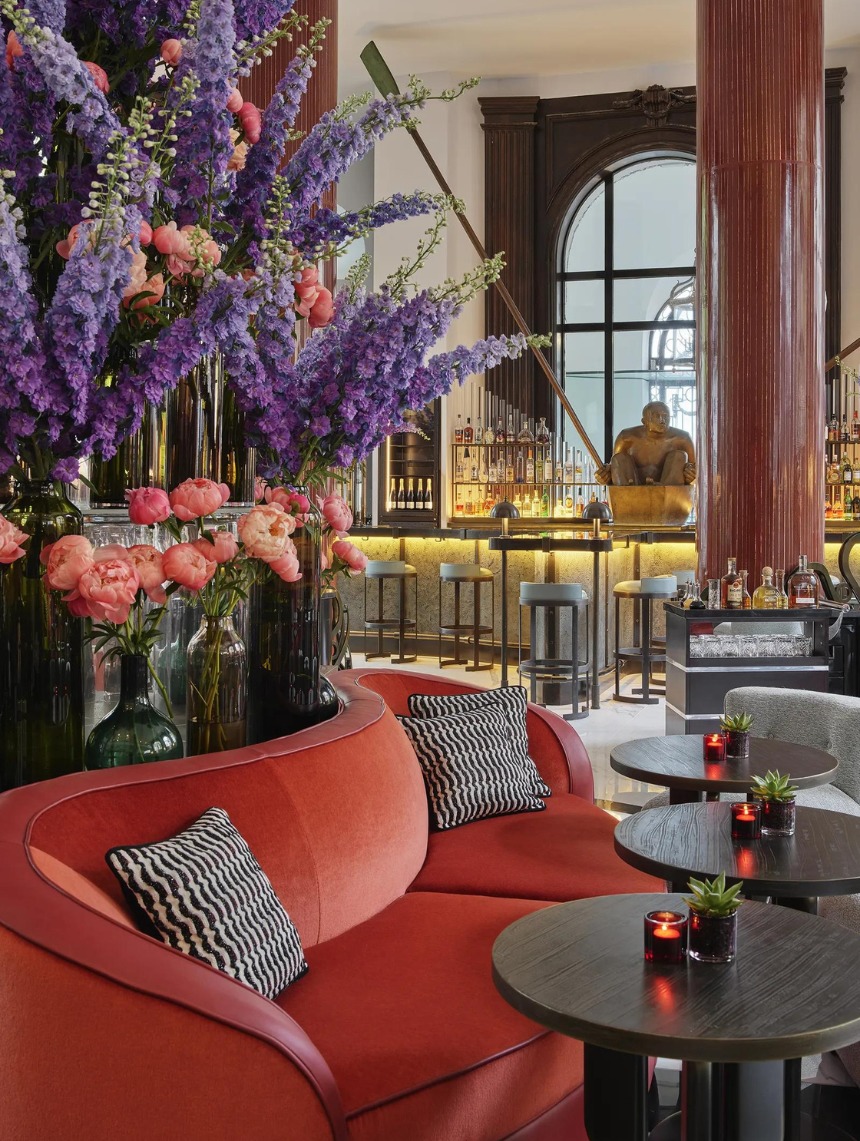 Another favourite is Covent Garden's elegant corner building, One Aldwych. It's a proud Brit, with UK-designed furnishings, including throws from the isle of Skye up in my neck of the woods, Kent-based Mitchell & Peach bathroom accessories, and English-brewed beer in your minibar. Localism is something we all like to see, though give me an Italian-designed lamp over a too-heavily stuffed British sofa, and I'll also be happy. The early 20th-century hotel is in the former home of The Morning Star newspaper, which may be partly why I have a fondness for it as a writer. London design company Fabled Studio gave the hotel an update in 2019, bringing out its Art Nouveau and Parisian touches (original architects Mewès and Davis loved French Louis XV and XVI style), enhancing its huge ground-floor arched windows with plentiful seating in the double-height lobby. It's the perfect spot to sit with a coffee.
Then there's the more modernist scene. One of my favourites was the sadly no-longer Ace Hotel in Shoreditch. I felt it hit the youth meets Gen X spot better than others which only seem to do brash. Its spacious low-slung mid-century-furnished rooms and a lovely Mad Men-esque basement restaurant complete with jazz band, brought Brooklyn vibes to Shoreditch.
What does remain around here is Shoreditch House, part of the Soho House group. You can't get hipper than its rooftop pool with broad red-and-cream striped loungers, and automatic entrance to the members club while you're a guest here in what was, naturally, an old warehouse. The actual hipsters may have moved east to Peckham and beyond, but let them have it, I say. I'll stay where the buzz and the restaurants are.
One recent London opening that has caught my eye is Mayfair's new Hauser & Wirth pub and restaurant The Audley and Mount St Restaurant. On the face of it, this looks like a spruced-up trad pub, all polished oak and shiny beer taps. But peer a little closer and you'll find the artistic stamp of owners and international art collectors Manuela and Iwan Wirth. Their property portfolio arm, ArtFarm, is quietly turning key sites around the world into a capricious combination of hospitality and gallery.
These arty spots include the surreally spectacular Fife Arms in Braemar, Scotland, which at first glance seems to be an over-the-top Victorian inn, but on closer inspection is crammed with some of the best artworks and installations in the world, including Breughels and Picassos, Martin Creeds and Man Rays. They've also just bought the Groucho Club, London's fabled members' club for cool media-types and celebs.
Hauser & Wirth's USP is that they stuff everything they buy with outstanding art. In the immaculately restored Audley, look up to find a specially commissioned vibrant ceiling created by British artist Phyllida Barlow, inspired by the curvature of the trad Victorian pub windows. Above the pub, Mount St Restaurant & Rooms has more, including artist Rashid Johnson's unique broken-tiled floor, and a hand-painted ceiling by Anj Smith in the fourth-floor Games Room turret. Around 200 other artworks include pieces by Andy Warhol, Henry Matisse, Lucian Freud, Ferdinand Hodler, Peter Fischli and David Weiss. Artistic design is evident everywhere, from the table lamps to the dining chairs, cabinets to chandeliers.
Despite varied designs, styles and eras, I think there is a London look and feel that all these places share. It's a confidence, an awareness of being in the capital and at the heart of things, and more often than not, a high ceiling, and always a dash of urban cool. Art is forever important, as it is in all rooms. London is a place of Georgian splendour and detailed Victoriana, so often present even in new attractions – Coal Drops Yard, for example, where millions of restored London-grey bricks offer home to boutiques and restaurants for a weekend buzz. There is so often this nod to London's dominant style. And, lucky for me, there's always something new to come back down and check out.