Client:
Private, Residential
Year of completion:
2021
Location
Beaconsfield, Buckinghamshire
Photos
by Ed Kingsford
This client wanted a redesign of what was a tired-looking bar area. It neither fitted the room nor offered a very practical solution for serving drinks, and took up far more space than it needed to. They wanted a stylish and sleek result that didn't totally dominate the space. The project also expanded to improve the TV space in this couple's home. She really wanted a more prominent living space, with less focus on the bar, whereas he wanted to keep and modernise the bar. The compromise was to make both the bar area and TV space much more attractive and welcoming, and a great area to host guests.
What was a mess of cables and gadgets around the TV area is now transformed into a streamlined muddle-free media and TV zone, with more floor space for comfortable furnishings, and a sophisticated connected sound and AV system in place.
We are delighted with Design'd Living's transformation of our tired, old-fashioned bar area into a vibrant, contemporary space for entertaining family and friends. We particularly like the way Design'd Living has interspersed wood and marble to create a stylish integrated unit as the focal point for the room. I used to be embarrassed by this part of the house but now I'm proud to show it off!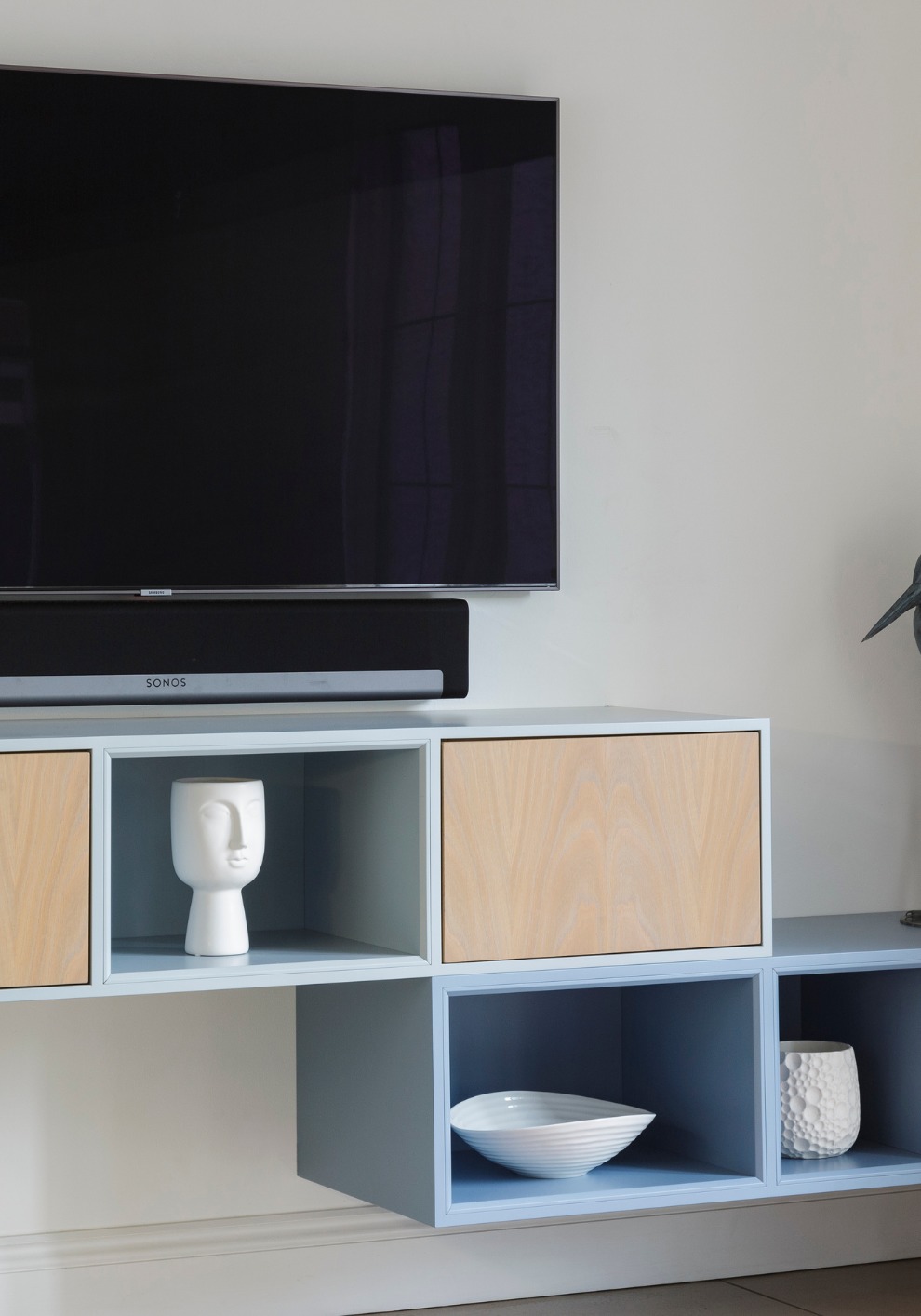 How we made it work
We worked hard to understand the clients' requirements, setting down early on exactly what was needed in terms of wine storage, chillers, glass storage, and spirit shelving for the bar area. The finish needed to be stylish but also totally practical, low maintenance, and easy to keep clean and clutter-free, as well as suit their lifestyle and preferences.
After an initial consultation, Rob and the team proposed three concepts. Once one was chosen, it was carefully refined into the final design. We then worked closely with the cabinet maker to iron out fine details, for example, precisely measured storage on the bar to house mixers, glassware and spirits. Hidden wiring was a key consideration, taking into account two wine fridges.
The separate requirement to incorporate secret storage behind the bar and under the staircase (where there used to be a cleaning cupboard), meant clever design to ensure it really was a secret – but accessible – storage area.
For the TV area redesign, we installed a new media wall solution to house their AV components, working closely with the AV company to create a new system that linked their old Bang Olufsen system with the new Sonos system – allowing them to use their old speakers but still have control over the Sonos app and use Spotify.
We then designed cable channels behind the unit so it could easily be wired compartment to compartment without the wiring being visible. We thought through the ventilation for the equipment carefully, and also how everything would be attractively presented in the new wall-mounted unit.
The TV area is now a pleasing informal living space, with stylish storage for clunky AV components such as the Sky box. There remains room for the clients to add personality by placing ornaments and photos into the unit.
Bookmatched Worktops & Splash Backs
Bookmatched is when the veins of the worktop are matched through to the splashback or wall next to it, creating the illusion that the material is flowing all the way through the cabinet. To achieve this effect here, we planned it into the design at the start. It's a little like a jigsaw, splitting pieces of cabinetry and ensuring everything lines up completely. We worked in harmony with the tile supplier so that the materials provided by them would be bookmatched correctly, then worked with a fabrication company to cut up individual tiles to the desired result.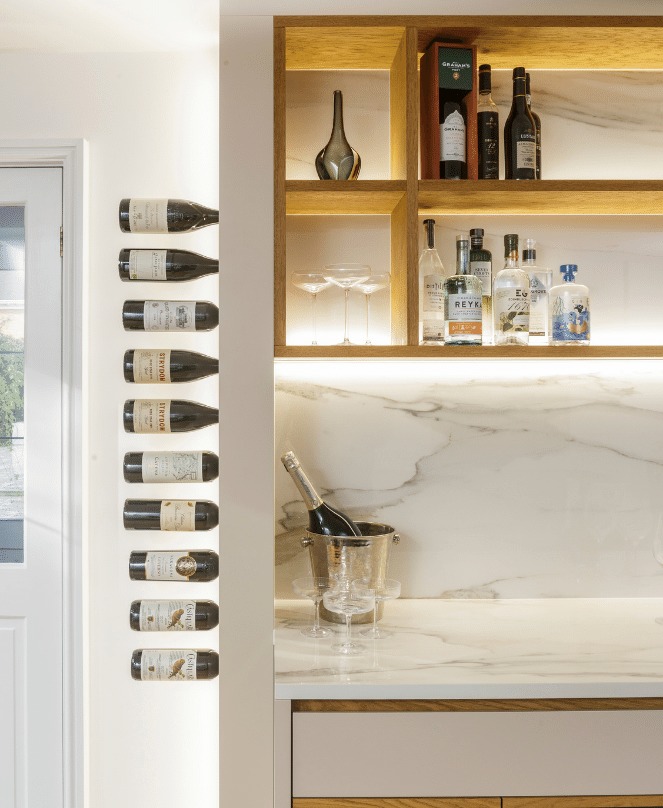 Wine Storage
This innovative idea for the red wine storage shows it off and makes it appear as if it's seamlessly floating out of the side of the cabinet. The backlighting gives the bottles an appealing glow from behind, to enhance the effect. At the other end of the bar, the large wine chiller allows ample space for white wines and bubbly.
PROJECT GALLERY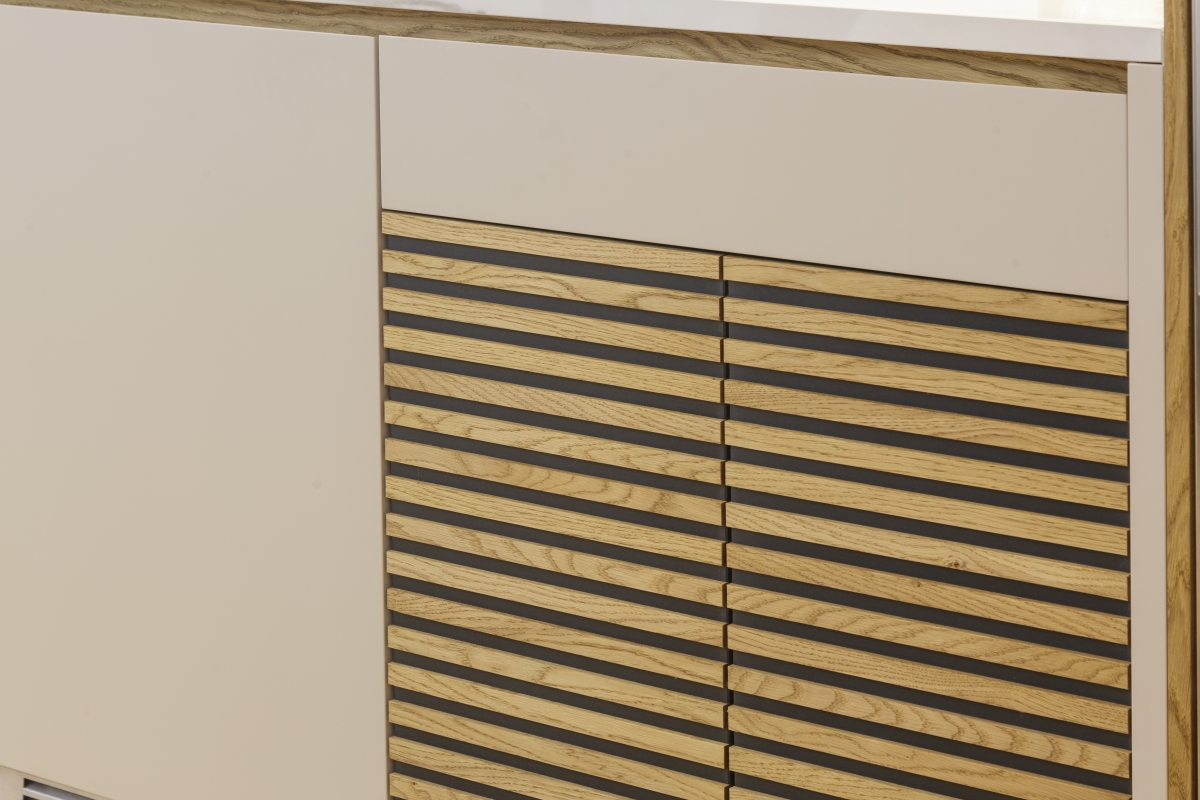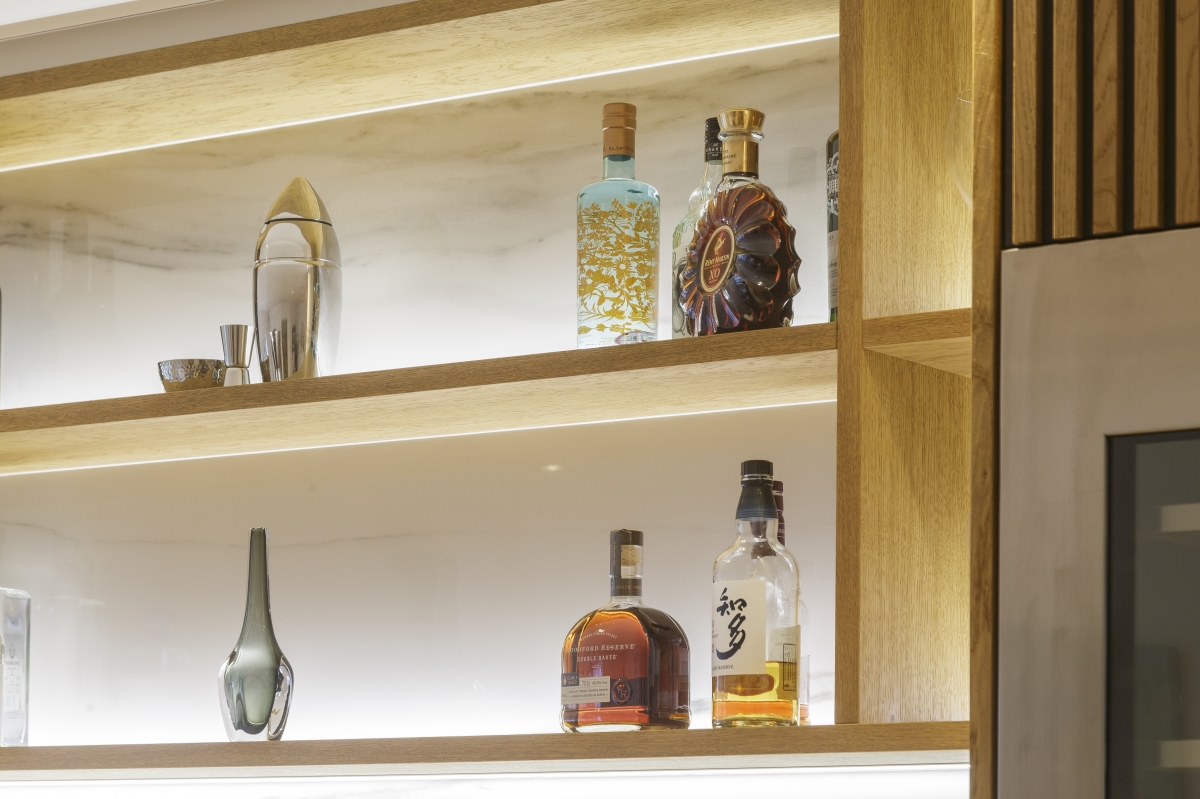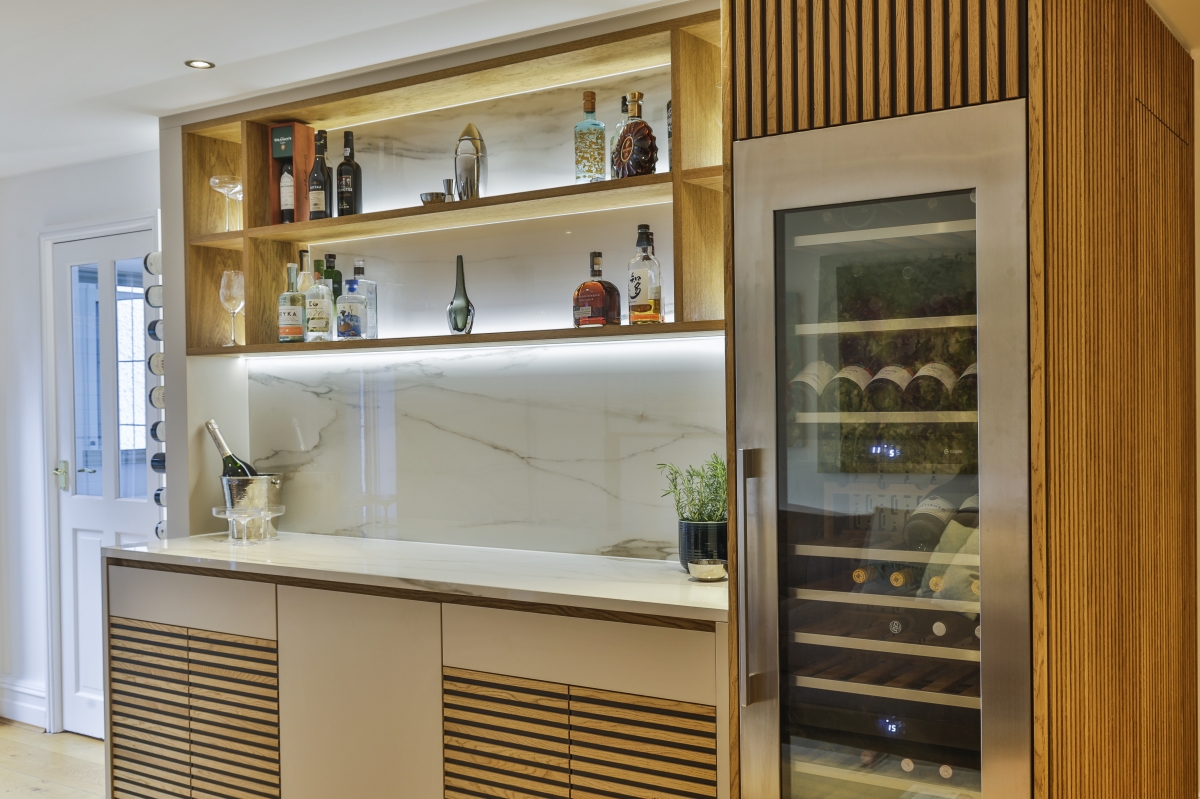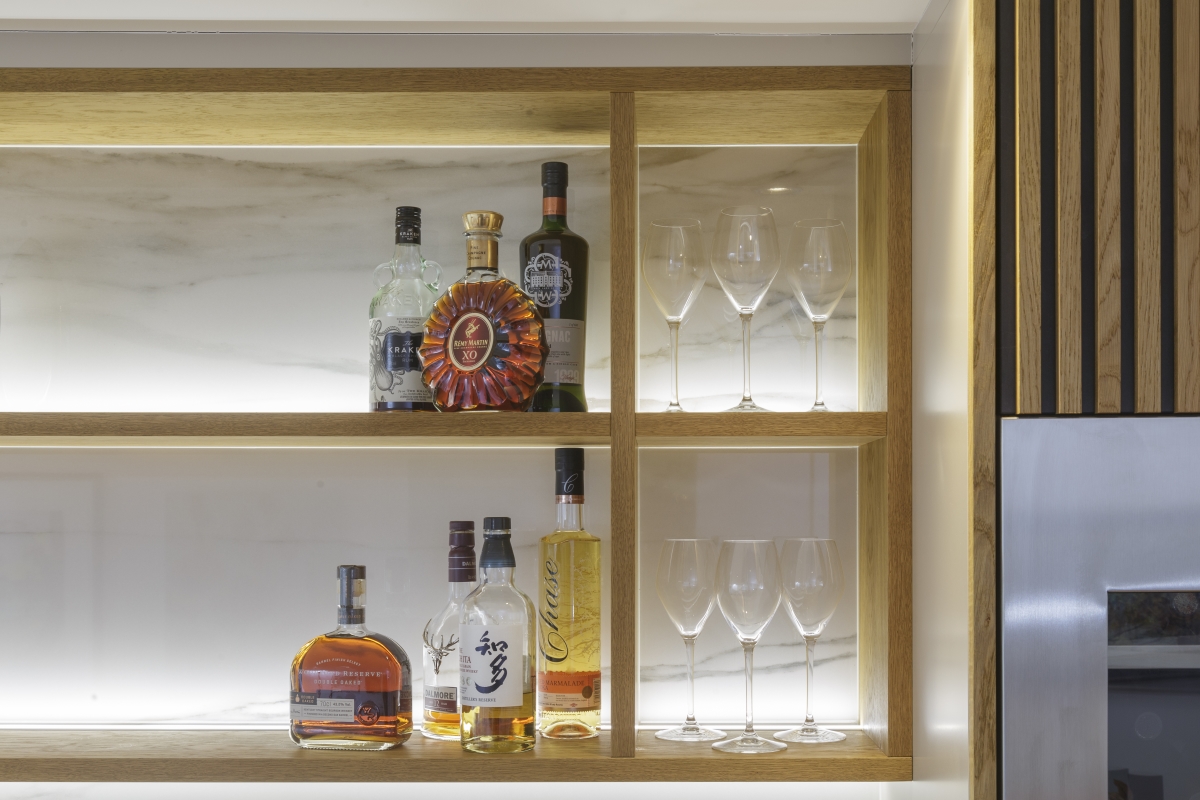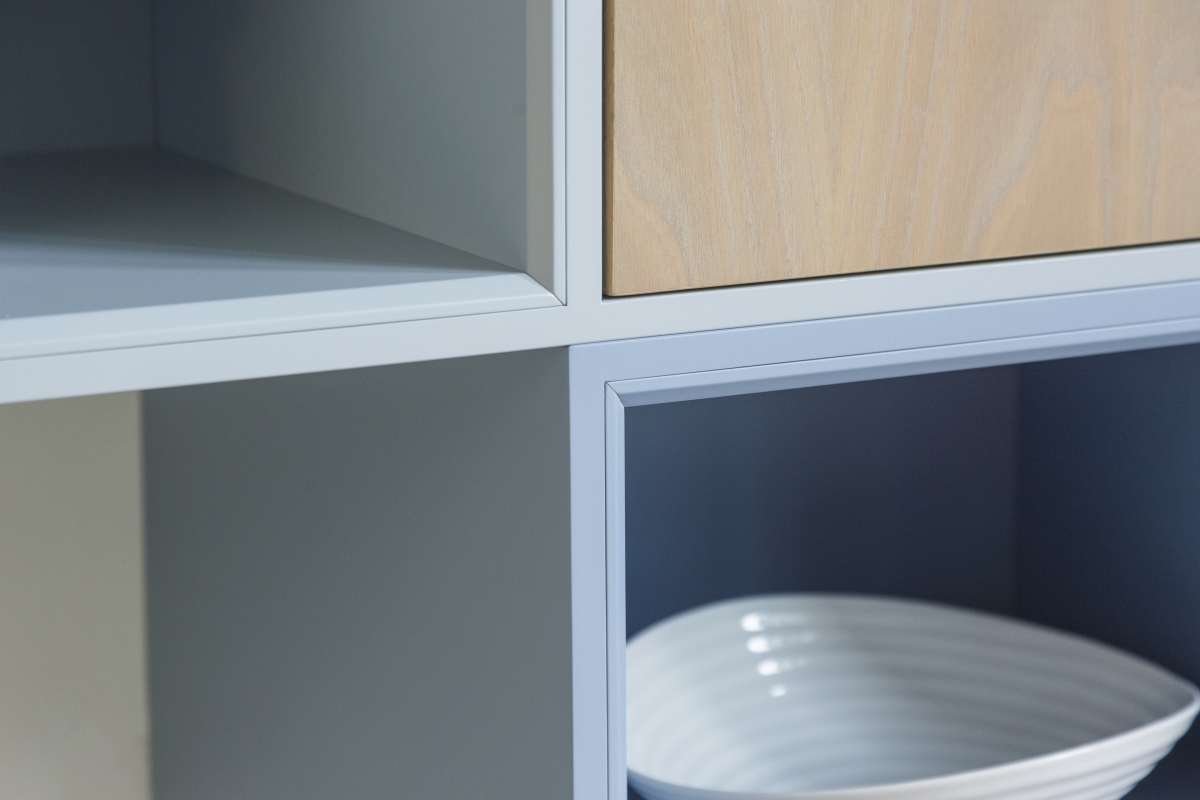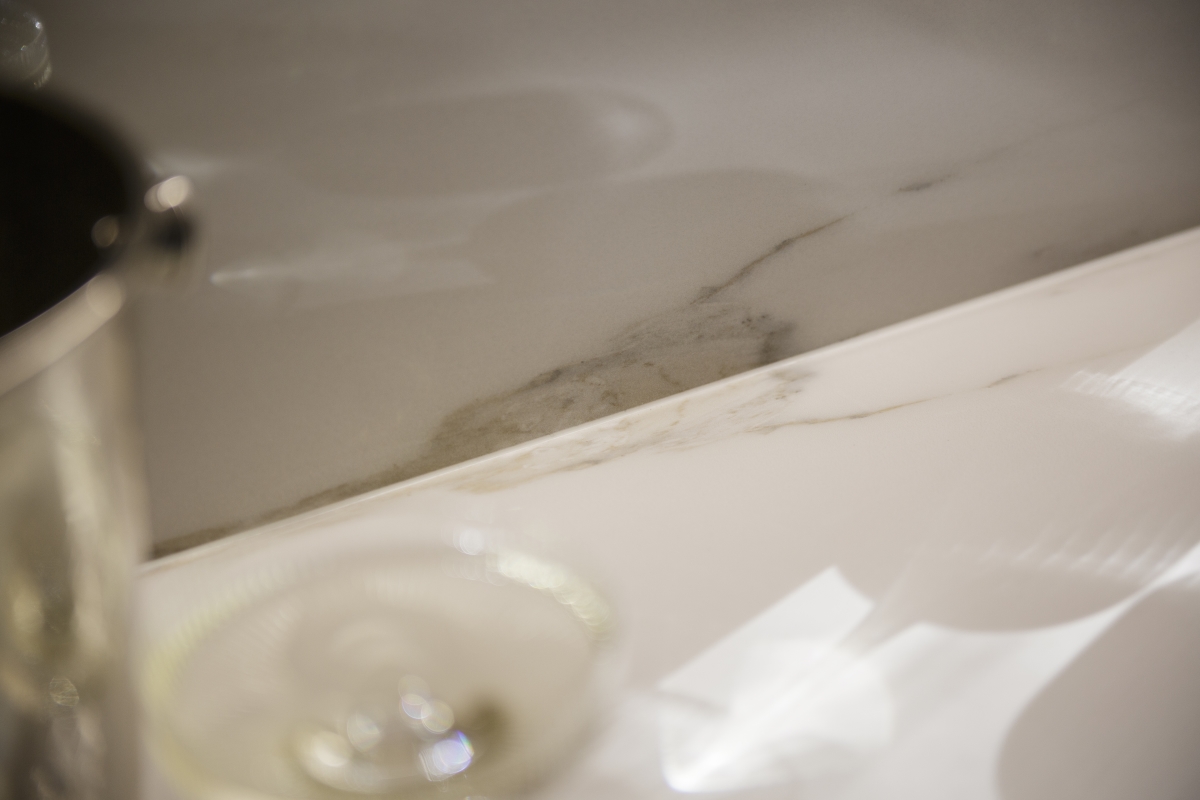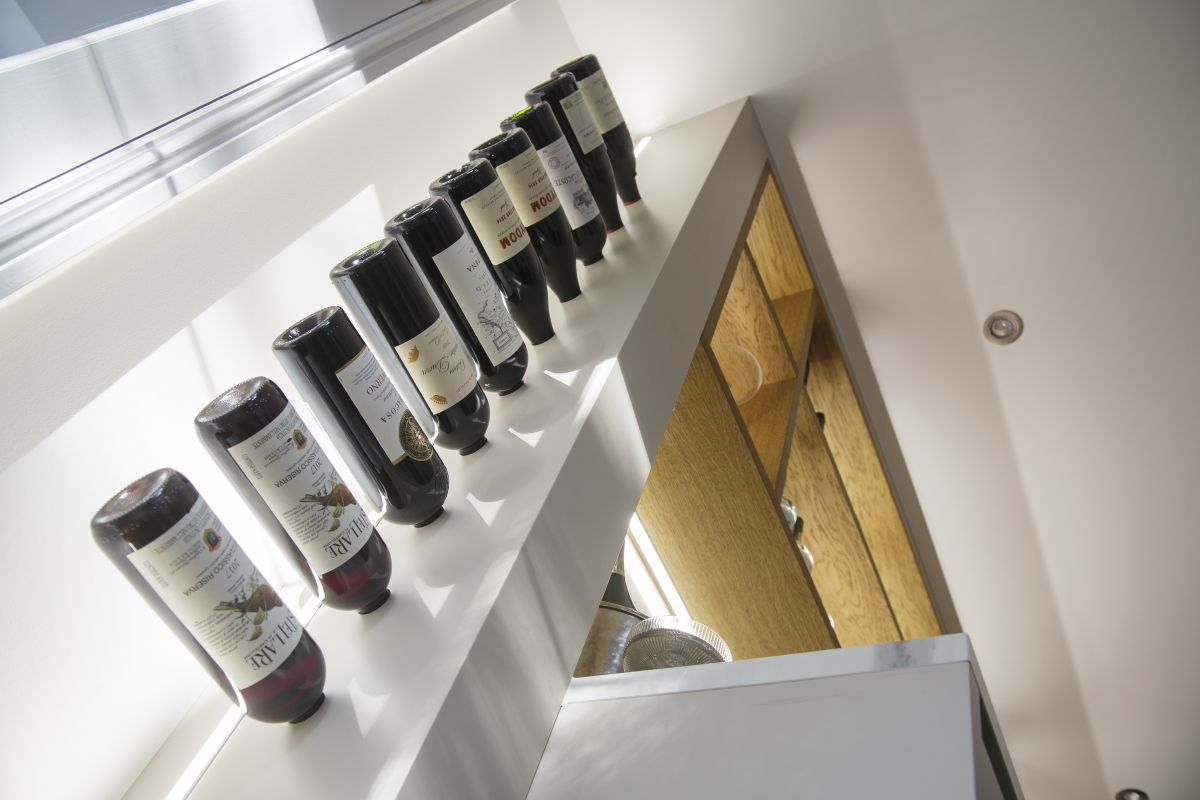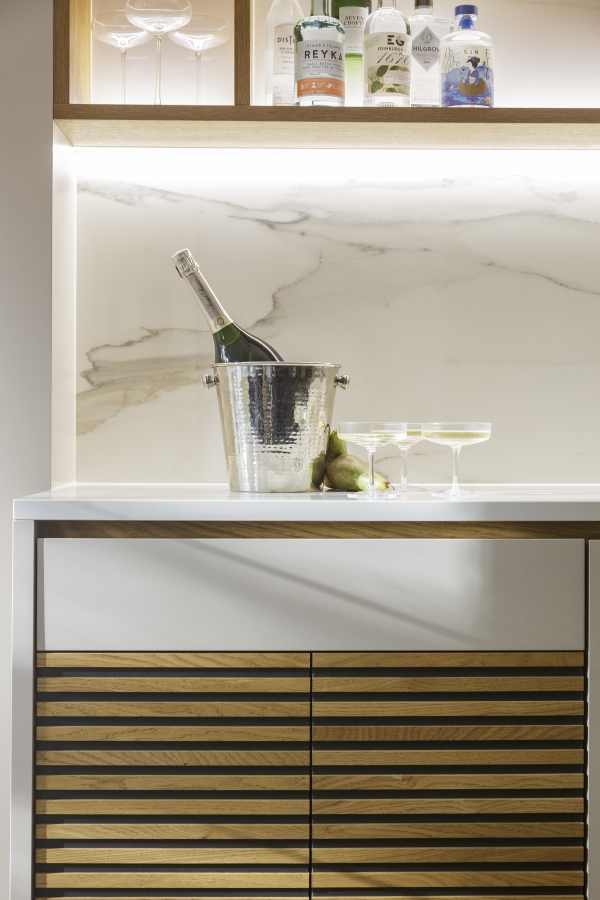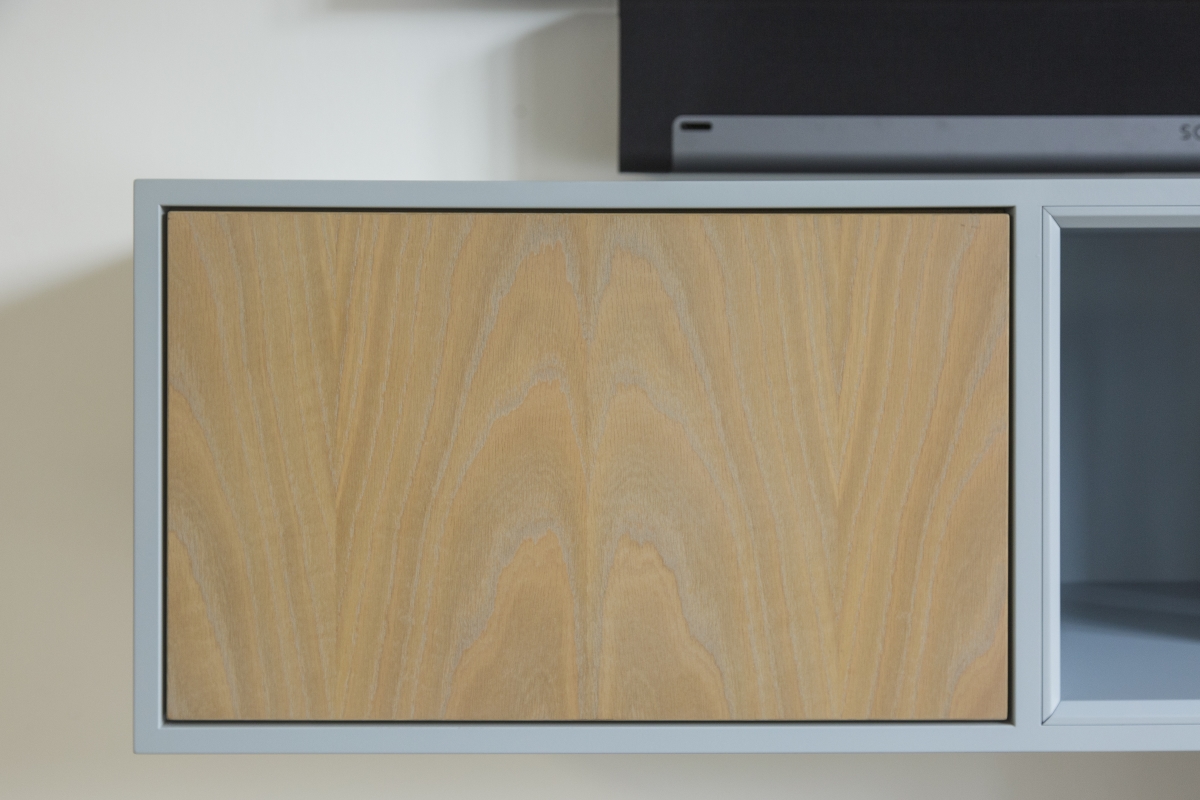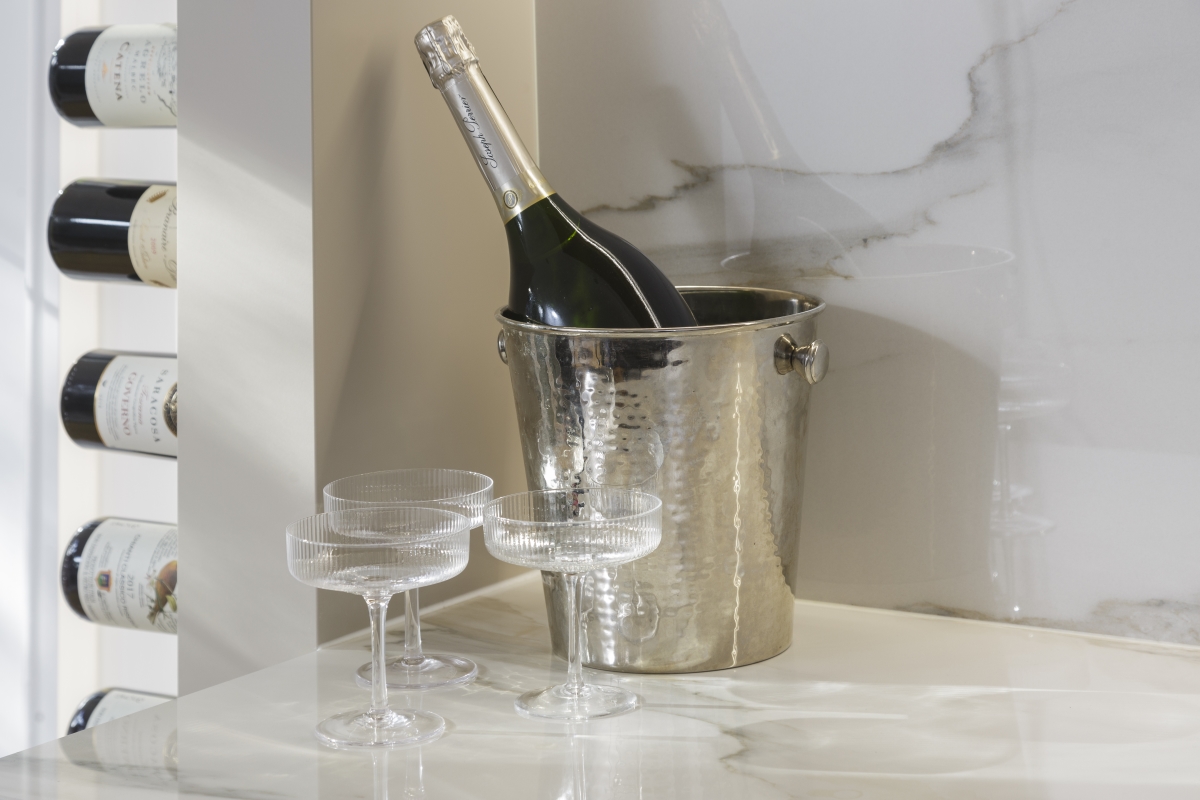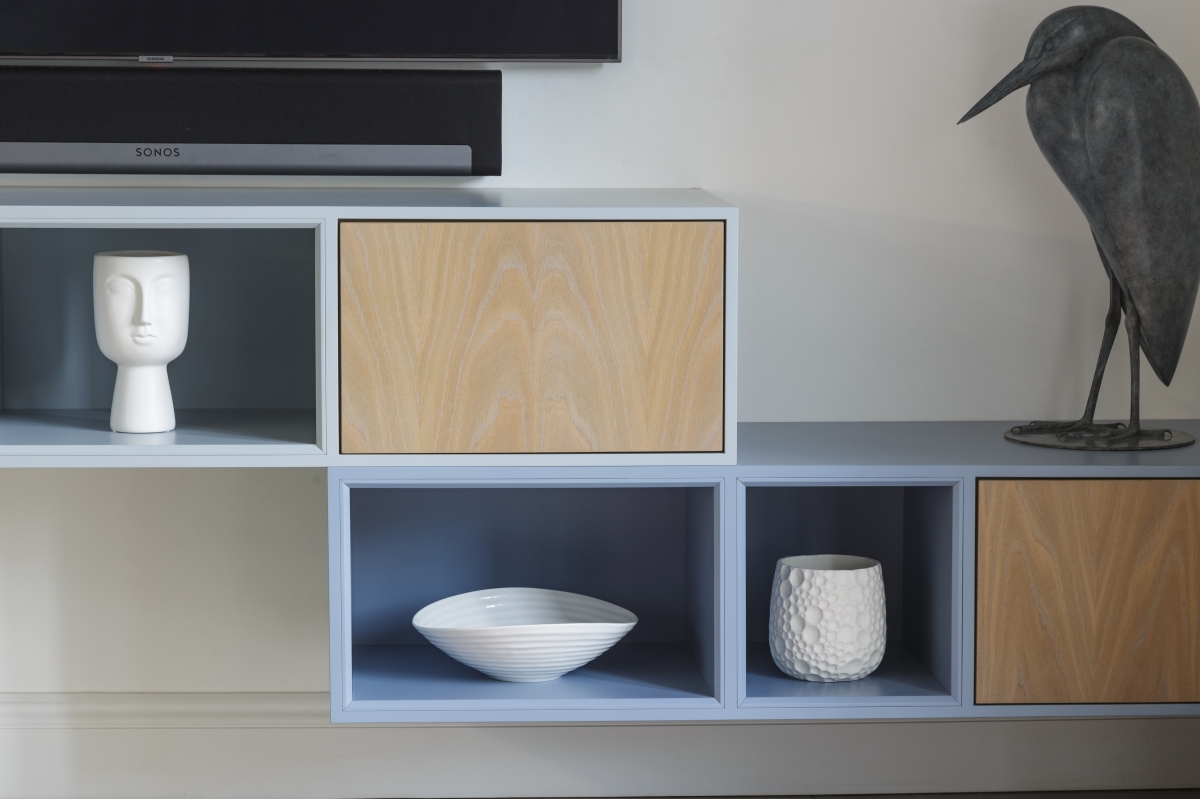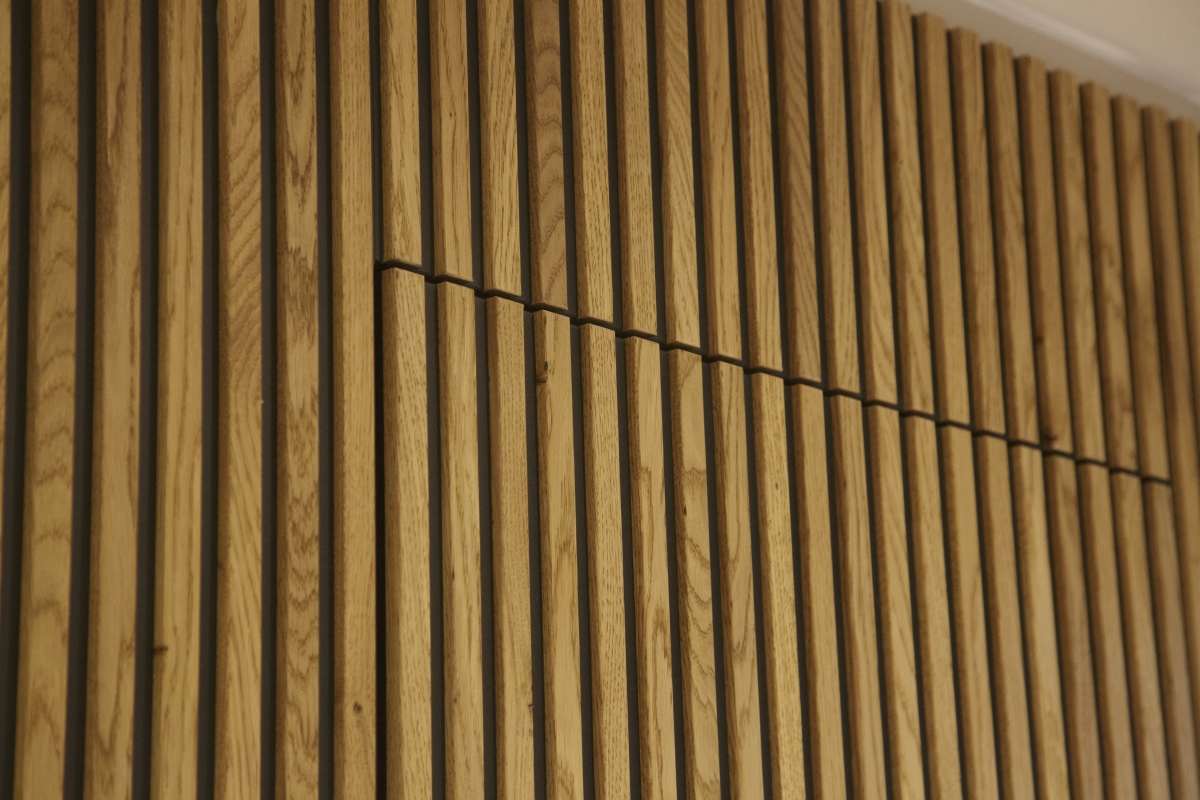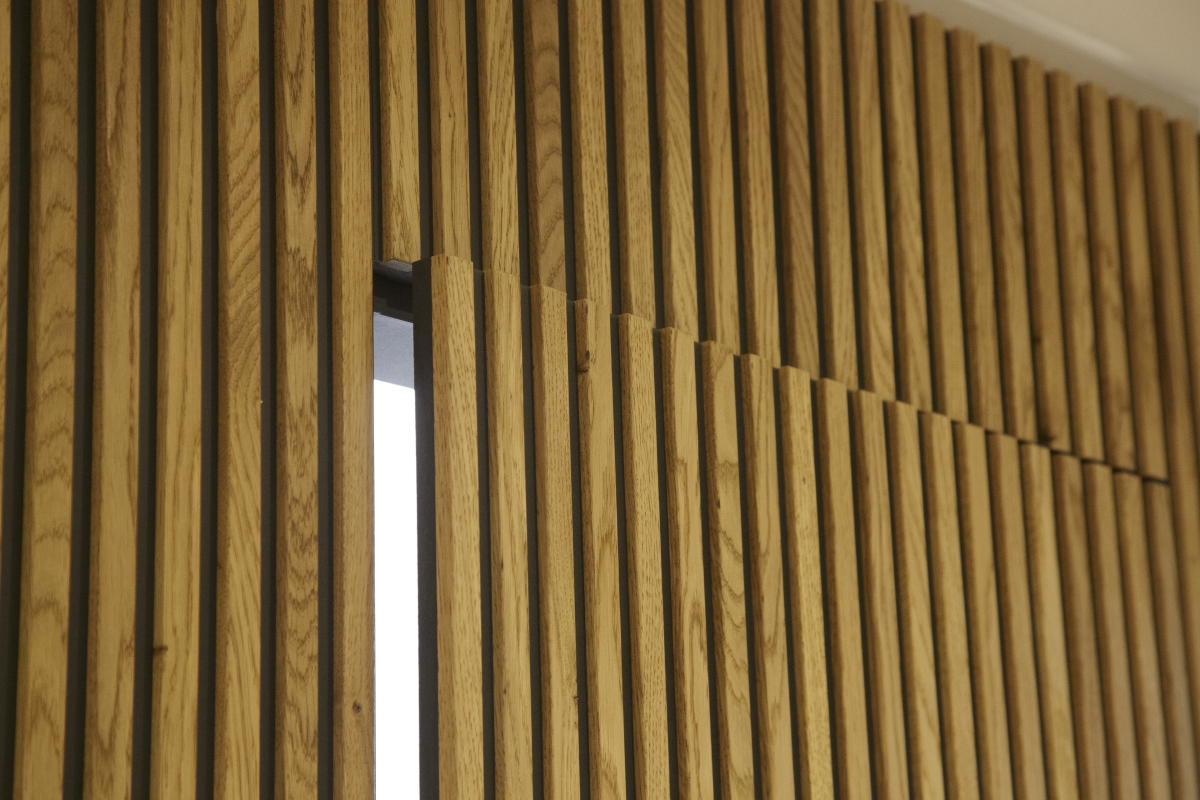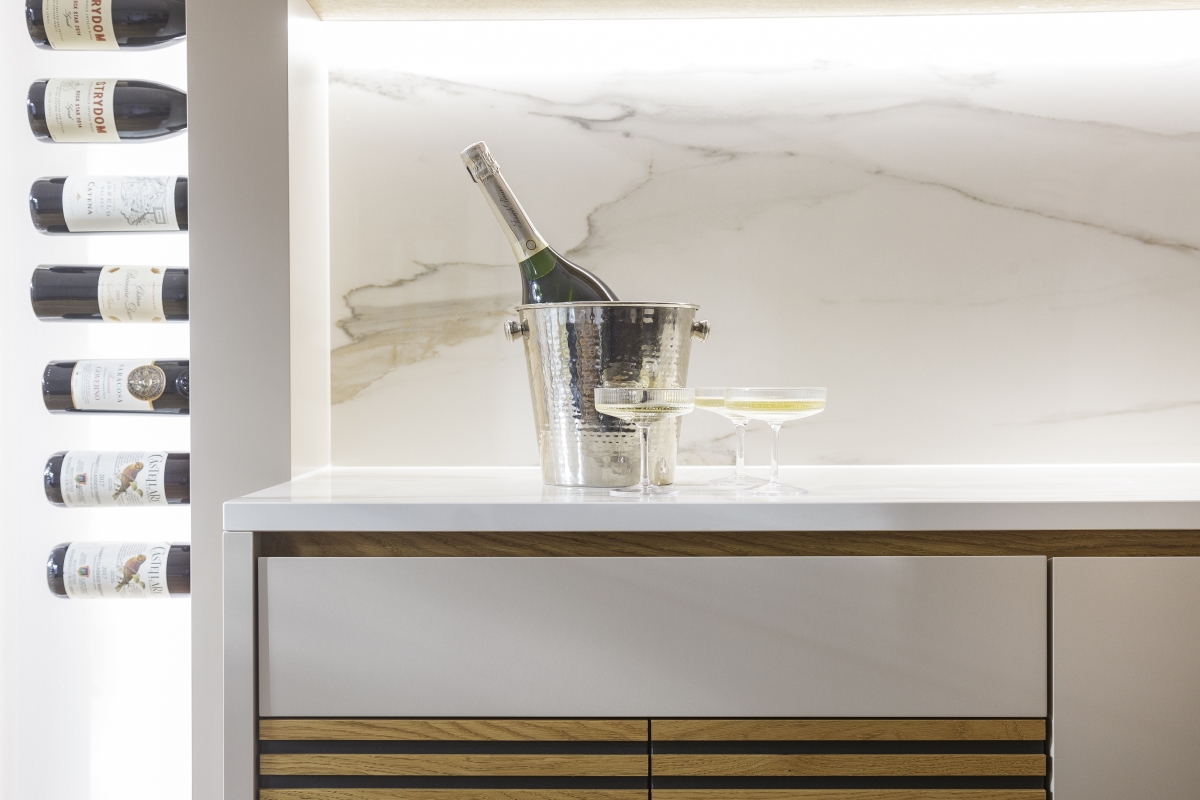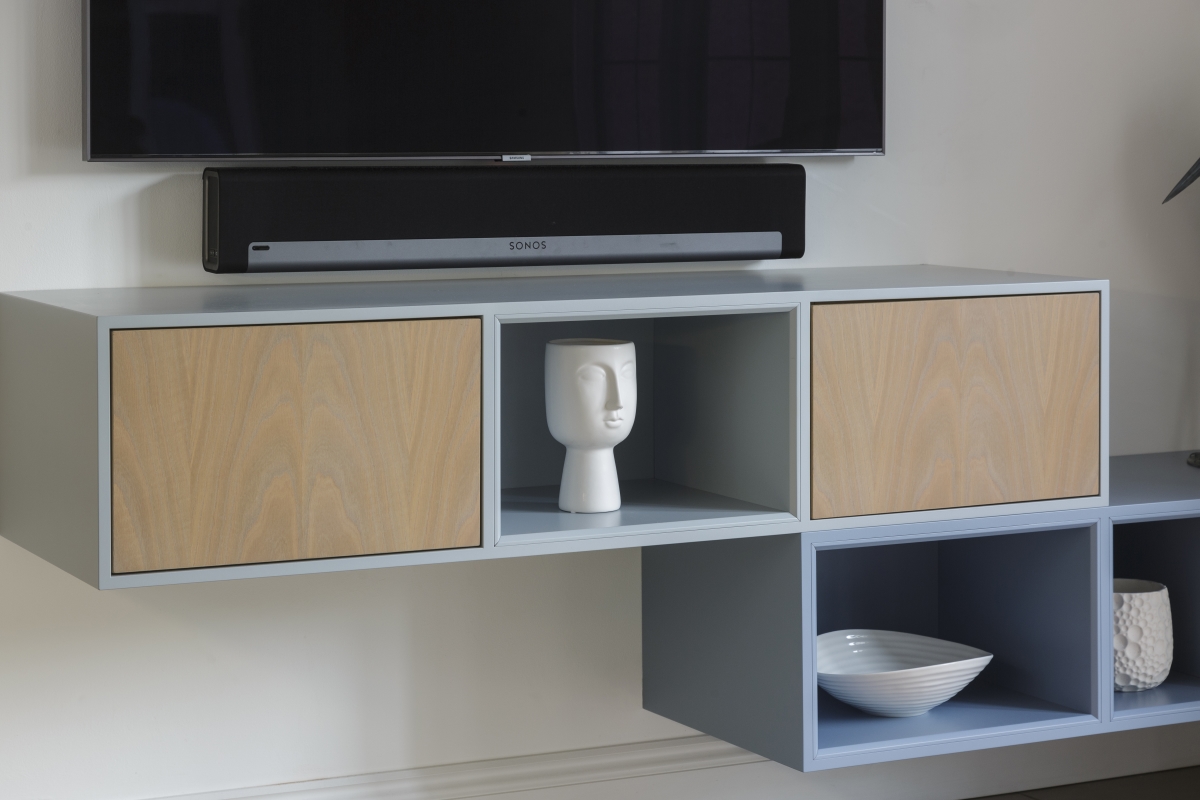 SERVICES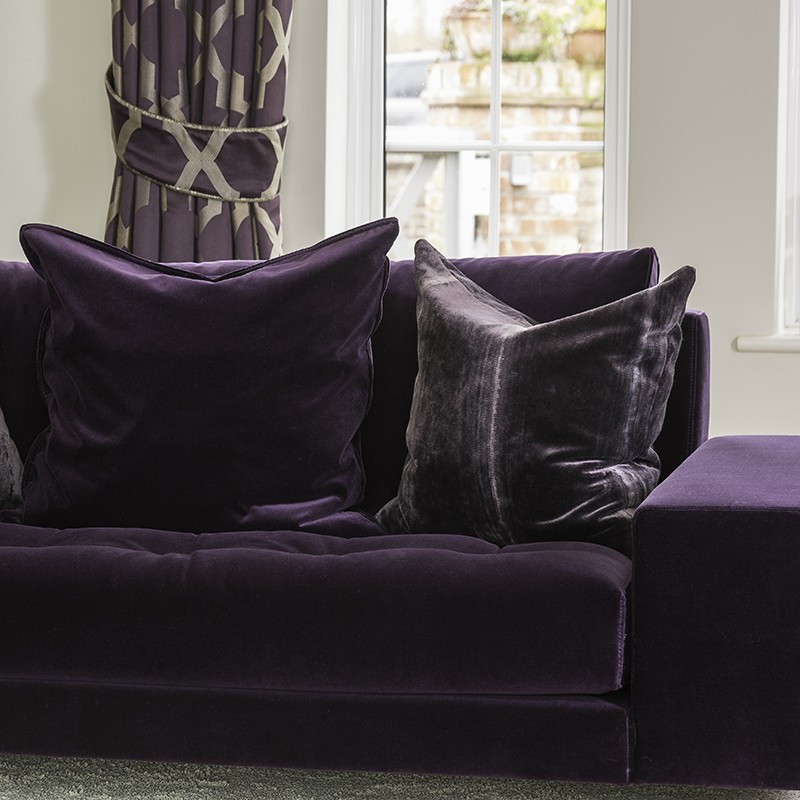 Residential
Whatever your interior style, aesthetic preferences, or lifestyle, we can give your space new energy and improve the way you live. Our interiors work, feel good to be in, flow well and look wonderful. No matter what your style of building, or where your property is located, we have the skills and know-how to transform the interior and add a dash of wow factor.

If you're considering using our interior design services for your residential project, click below to find out more about what we offer.
DISCOVER