Bespoke Furniture
Our take
What do you think of when someone says 'bespoke furniture'? Maybe a clever fitted wardrobe, or kitchen cabinets? Our take on bespoke or custom made furniture is all about really clever use of space, so that everything has its perfect place in your home and clutter is eliminated. But it's also about beauty. We create something that works, of course – that offers delight when you open a cupboard door, for example. And we also aim to create something that adds interest and class, elevating the whole space, rather than being an afterthought or just a space saver. This might be through use of unusual materials, or interesting textures, or through a unique curve in your wooden cabinet, or some asymmetric aspect. Basically, our custom made furniture is about exceptional design.
We incorporate bespoke furniture into our projects so that you can utilise spaces that you never thought could be useful or interesting. Creating storage out of nothing is a deeply satisfying part of design. We take great pride in it. To achieve this, we work with the best in the trade to execute our design ideas with excellence and beautiful finishes. We're able to produce something totally unique for all of our clients. Over the years, we've learned tricks from each of our specialist trades we work with, and we love bouncing creative ideas around in client meetings.
Read on to see a few of our favourite bespoke furniture designs from our projects.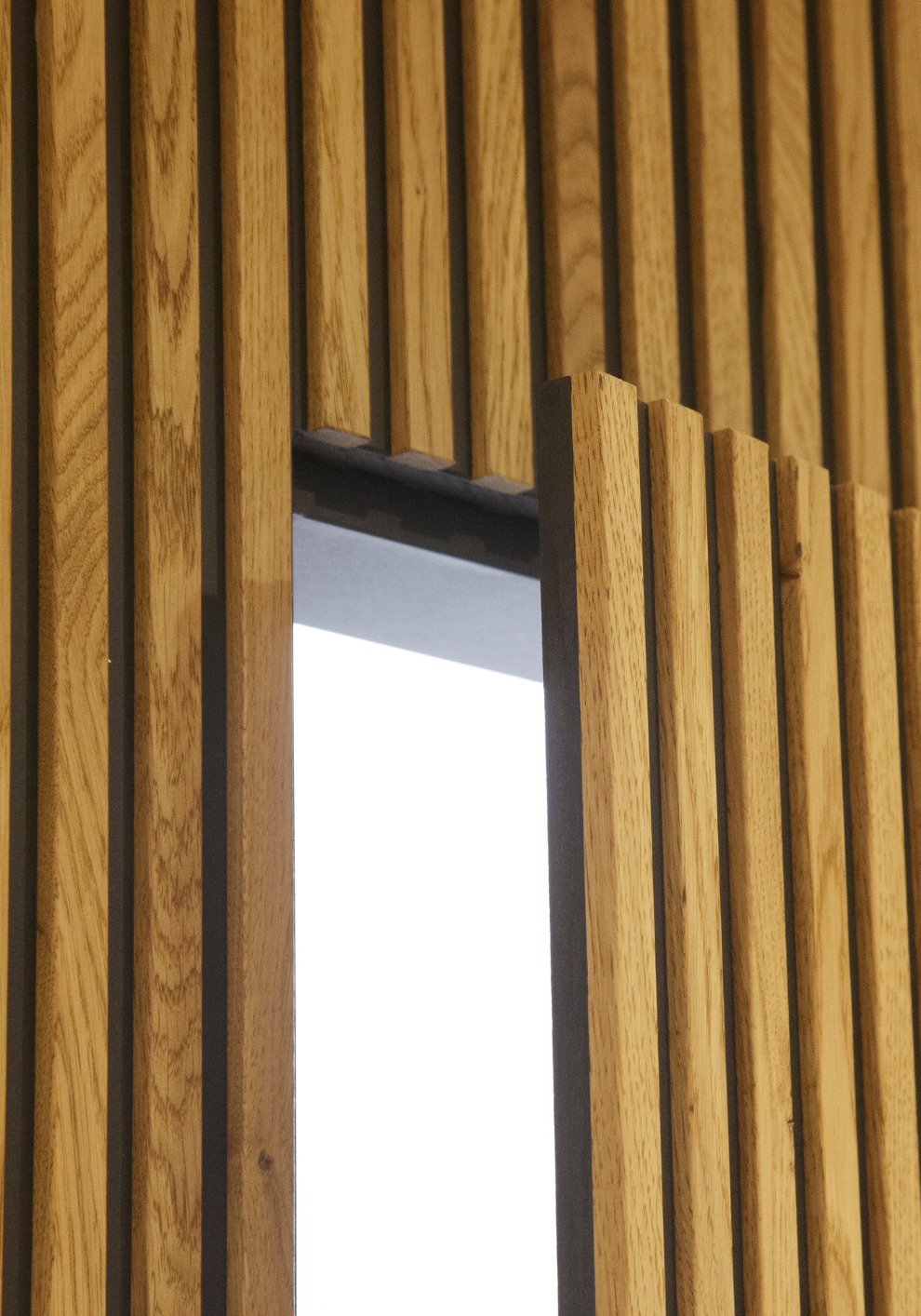 Secret Cupboard Space
Bespoke furniture gives us the freedom to be inventive. Our Templestow project clients wanted us to incorporate secret storage behind the bar and under the staircase, where there used to be a cleaning cupboard.
We needed something practical but much less visibly intrusive than their previous design.
Our solution incorporated these sleek slatted wood panels which cleverly hide the door line within the design. We had them stained in an eco-friendly Rubio oil stain, with the backing panels made from a material called Valchromat, a coloured and treated wood fibre panel engineered for high performance. The palette of oak and black synergies with the mushroom grey colour in the room, and ties in beautifully with the porcelain bar top and grey/caramel veins within the material.
Wine Fridge and Bottle Storage
Working with Caple Kitchens, we specified that the fridge must exactly fit the client's requirement. This resulted in an 'In-Column Triple Zone Wine Cooler SKU: WC1796' fridge, in which one half stores white wine and the other half red wine, with the temperature-controlled differently for each. Our intention for this unique wine holder was to design something fabulous as well as practical in terms of space-saving storage. Our innovative thinking led us to create this one-of-a-kind wine storage unit. We built the unit into the side of the cabinet, allowing us to maximise space while also creating an eye-catching feature that allows the backlit bottles to appear as if seamlessly floating.
Compact Office Space
This property is used predominately as a holiday home but the owner felt there was a need for a desk space in case holiday-makers needed to work, and with the possibility of encouraging longer-term digital nomad lets. In the past, city home owners had rented the accommodation over summer to work and relax by the sea. Our client didn't want the space to be too much on show, or take up excessive room, so that the room could still function primarily as a guest bedroom.

With this in mind, we inserted this small desk area with hand-built pull-out sections within one of the wardrobes. It is fully bespoke, enabling us to measure everything perfectly to ensure the small desk could be tucked away neatly so guests didn't feel like they were sleeping in an office. It has a very pleasing feel, and the choice of warm wood blends in well and ensures a homely feel to the space.

The Haven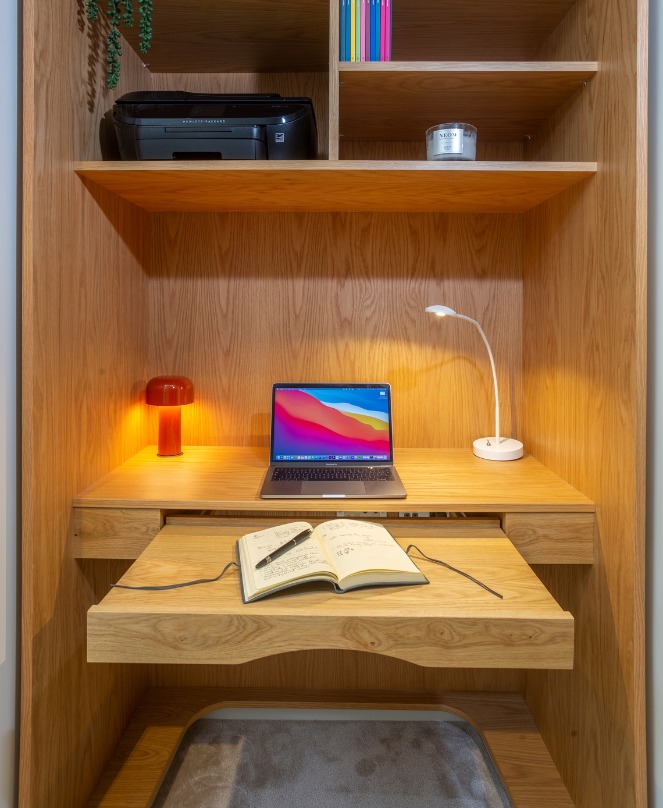 Beautifully Bespoke Desk
In our Trafalgar Mews project, our client was trying to find the right space for a desk area in their modest townhouse. Our solution resulted in a bespoke unit being built behind the lounge area. We made it exactly match the sofa height and fit the layout of the room, so it was pleasing to the eye in this smallish space. The compact storage was designed so the client could easily keep the office space neat and tidy. We designed and created storage to exactly fit lever-arch folders, and added an access point into the work tops which route into a cleverly hidden cable tray behind the unit.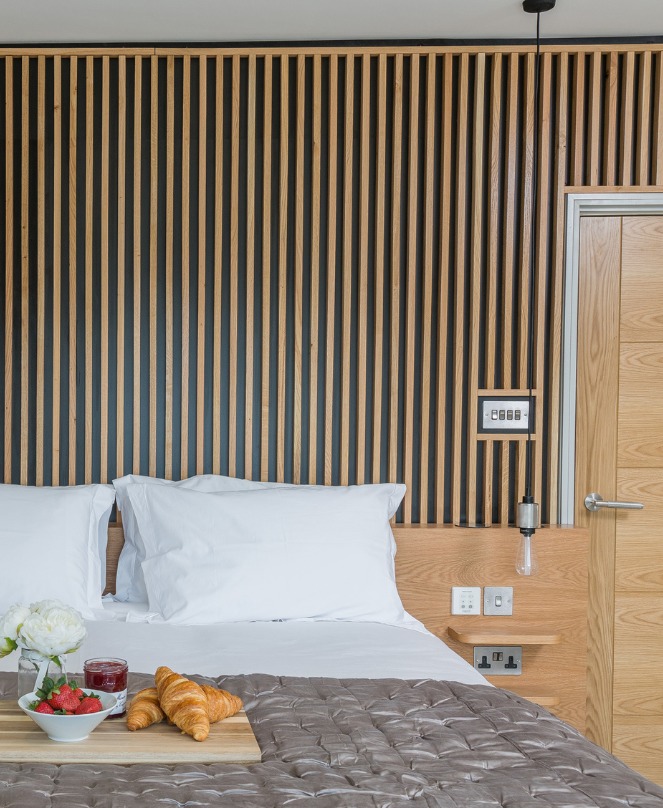 Wooden Headboard
Below, we designed, crafted and installed this stunning custom made headboard which runs the entire width of the room to complete the contemporary vibe of this holiday let apartment. We wanted to create a hard-wearing and impactful design headboard. As this property is a holiday let with a high and varied footfall, our client specified that they would need to have a low maintenance design that is able to be cleaned quickly without worrying about stains on materials.
Haven Court